Tampa Personal Injury Lawyers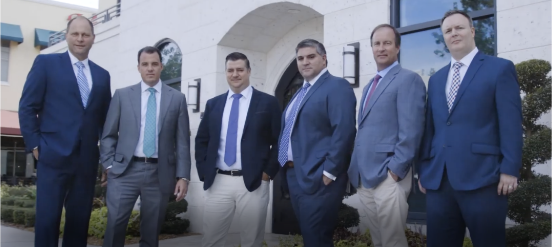 All of our lawyers are highly experienced with diverse skills who work together to deliver the best representation.
Helping Accident Victims and Employees in Tampa Bay and Statewide
In Tampa and throughout Florida statewide, the attorneys at Florin Gray help accident victims and employees get justice and compensation when they have been harmed by the negligence or wrongful conduct of others. If you've been injured in an accident, discriminated against or harassed at work, denied your fair wages, or fired for blowing the whistle on fraud or illegal conduct in the workplace, we want to hear from you. Our Tampa personal injury lawyers are standing by and ready to help you hold accountable those who have wronged you.
Top-Quality Legal Service, Top-Tier Client Service
At Florin Gray, you'll find that every one of our lawyers is highly experienced in our firm's areas of practice. Instead of wondering or worrying that your case is going to be assigned to a junior associate fresh out of law school, you have the confidence and assurance that a highly skilled and experienced attorney will be personally handling your legal matter. Additionally, our lawyers do the work themselves and don't rely on legal assistants or other nonlawyers. We want your case done right and feel you deserve to have the best we can offer.
Another strength of our firm is that our lawyers have diverse backgrounds and skill sets when it comes to practicing law. We know who in our firm is best at making opening arguments versus closing arguments, writing legal briefs versus appearing in court, talking to witnesses and negotiating with insurance companies. Every lawyer in our firm works on every case as necessary; we take the time to understand what your case requires and put together a custom team to provide the best representation that meets your needs and gets results.
Client service is also extremely important to us at Florin Gray. We know that you have come to us at a difficult time in your life and that you are in need of advice, support, and legal help. We want to get great results for you, of course, but we also want your experience working with our firm to be a positive one throughout. We are very accessible and hands-on with our clients, even sharing our cell phone numbers so clients can reach us when they need us. You are a part of our team too – in many ways the most valuable and important member of our team – and we want to make sure you know it.
Handling a Wide Array of Personal Injury Matters in Florida
When you've been hurt because of another's negligence, you find yourself facing medical bills, a loss of income, physical pain and suffering, emotional distress, and countless disruptions and challenges in your life. The party responsible for causing your injury owes you compensation not just for your bills but for all of the pain, suffering and inconvenience you are forced to endure. Our Tampa injury lawyers strive to hold negligent parties fully accountable to the people they have harmed. Our comprehensive Florida personal injury practice covers a wide range of injuries and accidents, including the following, among others:
Motor Vehicle Accidents – We handle car accidents, truck accidents, motorcycle accidents, bicycle accidents, pedestrian accidents, boating and jet ski accidents, and more. If you were hit by a drunk driver or distracted driver or injured in a collision involving an Uber or Lyft driver, our team has the thorough knowledge of Florida motor vehicle accident law and experience litigating and settling claims that you need.
Premises Liability – We hold property owners liable when they create a hazardous condition on their premises or fail to notice and correct a hazard in time to prevent someone from getting injured. Our premises liability practice covers slip and falls, trip and falls, dog bites, and assaults due to negligent security. We represent victims of construction site and workplace accidents, as well as those injured on the premises of grocery stores, retail stores, hotels and resorts, big box stores, hardware and home improvement stores, and other establishments.
Nursing Home Negligence – When you've entrusted the care of your loved ones to a professional nursing home, it can be heartbreaking to find they were neglected or abused. We understand your anger and frustration, and we go to work right away to stop any further harm and hold the facility fully accountable for any injuries caused. Our nursing home negligence practice deals with medication errors, bedsores, improper use of restraints, cleanliness and hygiene issues, failure to refer residents for medical evaluations, violation of residents' rights under Florida law, and more.
Catastrophic Injury and Wrongful Death – Our firm handles the most serious cases involving the most catastrophic injuries, including brain injuries, spinal injuries, amputations, burns, back and neck injuries, fractures, and injuries to children. In the case of fatal accidents, we seek justice and compensation for bereaved family members in accordance with Florida's wrongful death law. The most serious injuries are also the costliest to the victims and their families, and we provide the highest level of legal services and support to see that you are properly taken care of.
Florida Employee Rights and Employment Law Attorneys
In Tampa, Orlando and Tallahassee, our employment law attorneys maintain a robust employment law practice representing applicants, employees and former employees who have had their rights violated in the workplace. Our comprehensive employment law practice covers several important areas, including:
Discrimination – Florida and federal laws protect employees and applicants from discrimination based on protected characteristics such as their race, gender, sex, religion, national origin, disability, age, sexual orientation or gender identity. If you were fired or not hired for an illegitimate reason, or treated unfavorably in any employment decision regarding wages, hours, or working conditions, we can help you right the wrong that was done to you. If you were retaliated against for speaking out about discrimination or filing a complaint, we want to hear from you.
Harassment – If you've been subjected to a hostile working environment due to sexual harassment, racial harassment, religious harassment, or other severe and pervasive harassment based on a protected characteristic, we'll help you hold your employer accountable whether management perpetrated the harassing behavior themselves or simply turned a blind eye to workplace harassment conducted by co-workers, customers or third parties.
Wage and Hour Violations – Wage theft is a pervasive problem in countless Florida workplaces, from requiring employees to work off the clock, misclassifying employees as independent contractors or exempt employees, refusing to pay overtime, taking improper wage deductions, failing to pay minimum wage, and more. We represent individuals and whole classes of aggrieved employees, recovering years of unpaid wages for workers.
Lawyers for Whistleblowers in False Claims Act and Qui Tam Actions
Many Florida and federal laws protect the rights of employees and others to blow the whistle on fraud against the government or unlawful activity they uncover. Some laws, like the False Claims Act, allow private citizens to pursue claims on behalf of the government and get rewarded for their efforts. Visit www.ReportFraud.com to learn more about our firm's staunch defense and representation of whistleblowers.
Don't Delay, Call Florin Gray Today
If you've been injured by the negligence or misconduct of another or mistreated at work, call Florin Gray to review your case with a compassionate and dedicated attorney. With offices in Tampa and Lutz, we serve clients in Wesley Chapel, New Port Richey, Hudson, and throughout the Tampa Bay area. We also maintain a strong presence in Orlando and Tallahassee and represent clients throughout Florida statewide. Call anytime to schedule an appointment at our offices or over the phone; we also travel and will be happy to come to you. We offer a free consultation and can assist you in English or Spanish according to your preference. We handle all cases on a contingency fee basis where we don't charge any fee unless and until we recover for you. The sooner you contact us, the sooner our Tampa personal injury attorneys can go to work helping you. So don't delay, call Florin Gray today.
View More
View Less