Tampa Employment Law Attorney
Many employees in the state of Florida are unfortunately subjected to unlawful labor practices by their employers. If you or a loved one has been the victim of such injustices in Tampa or surrounding communities of Florida, please contact the Tampa employment law attorneys at Florin Gray immediately to discuss your legal options for recovery.
Why Choose Florin Gray?
At Florin Gray, we are committed to being passionate advocates for our clients who have been wrongfully treated by their employers.
We focus exclusively on personal injury and employment law cases, giving us greater insight, experience, and knowledge than other general law firms.
We take a hands-on approach to your case, including devising comprehensive strategies and communicating with other involved parties on your behalf.
We maintain a smaller caseload so that we can provide you the attention and respect you need to achieve the best possible case outcome.
We understand that this may be a tough time, so we offer free initial consultations to determine whether you have a case before proceeding.
Our employment lawyers are aggressive in our litigation, always pursuing the maximum possible damages for you and your family.
How Can a Tampa Employment Attorneys Help Me?
Tampa employers take claims more seriously when employees hire attorneys. Your employer likely has an entire legal team available to provide assistance and counseling during an employee claim. The most effective way to balance the scales is to hire one of your own. Unless you have a law degree, you will not have the knowledge or experience to give your case its best chance of success. Hiring a Tampa employment lawyer gives you the resources you need for a strong case.
Going up against your employer as a whistleblower or the victim of discrimination, harassment, or retaliation can take a significant mental and emotional toll. With a lawyer by your side, you can have the peace of mind you need to move forward with the legal process confidently. You don't have to deal with communications with state or federal agencies, meetings with your employer, or investigations on your own. Let a lawyer handle all of this on your behalf, so you can focus on your personal and mental health.
You also need a Florida employment attorney to handle your claim for legal reasons. While it's not against the law to represent yourself during employment lawsuits, it's generally not something the courts advise. Getting an attorney means protecting your rights as a wronged employee in Florida. A lawyer will give you all the information you need about your rights and opportunities as an employee according to state and federal labor laws.
Types of Employment Disputes & Claims in Florida
Employment law covers a wide breadth of rights, duties, and obligations between employers and employees. Every phase of the employment process – from posting a job listing to the termination of an employee – must follow established federal and state labor laws. Knowing where your case fits on the spectrum can help you understand your rights and potential legal opportunities.
At Florin Gray, we represent workers—not corporations—for claims against discrimination, harassment, retaliation, and wage and hour/overtime issues. In many situations, the best mechanism for protecting employee's rights is through class action lawsuits and collective actions. That is why we thoroughly analyze every potential case before we start the litigation process.
We handle any and all types of cases that violate labor laws in Tampa, including:
Unlawful Discrimination. This includes claims of discrimination based on race, gender, sex, religion, national origin, color, disability, or failure to hire or promote an individual of a protected class.
Sexual Harassment. Unwanted actions, behaviors, requests, or advances of a sexual nature.
Harassment. Any type of action towards an employee that is "severe or pervasive" enough to create a hostile work environment.
Disability Discrimination or Failing to Accommodate. An employer legally must provide reasonable accommodations for religious observances and practices and disabilities. Refusing to reasonably accommodate these needs can lead to a charge of employment discrimination.
Unpaid overtime and Wage violations. If an employer has failed to obey federal and state minimum wage and overtime laws, it can result in an employment action.
Retaliation. Cases of punishment against an employee for filing a complaint with the Equal Employment Opportunity Commission or Occupational Safety and Health Administration. Retaliation can take the form of a demotion, pay cut, or wrongful termination, for example.
Wrongful termination. An employer might have wrongfully terminated an employee if it fired the employee for several illegal reasons, including termination due to a protected class, out of retaliation, or pregnancy.
Unsafe work environment. Toxic chemicals, slip and fall hazards, defective products, and negligent employers can result in serious personal injuries and illnesses.
Because labor laws encompass such a wide range of issues, these are just some examples of employment law violations. If your case is not on this list, you may still fall under the federal and state protections to which you're entitled. Contact Florin Gray immediately for a free consultation regarding your case.
Tampa Employment Laws
In the state of Florida, employment laws can encompass an incredibly wide spectrum of issues in the workplace. This includes:
Discrimination in the workplace
Whistleblower Protections
Wage and hour issues, including minimum wage and overtime
Laws determining required time off and breaks
Health and safety in the workplace
These laws are in place to ensure that people have proper rights and protections in place against their employers. Common laws specific to the state of Florida include:
Minimum wage. Florida's current minimum wage is $11.00 per hour for nontipped employees and $7.98 for tipped employees. These are dictated in both Florida's constitution (Article X, Section 24) and in Florida state law (FL Stat. 448.110).
Fair employment practices. The Florida Civil Rights Act dictates that any employer with 15 or more employees must prohibit discrimination based on protected characteristics, such as race, color, religion, sex, and age. Florida also prohibits discrimination against those with sickle-cell, AIDS, or HIV infections.
The Florida Whistle-blowers Act, FL Stat. Ann. § 112.3187, protects employees from retaliation by employers for whistleblowing against the company.
Federal vs. State Labor Laws – What's the Difference?
Differentiating between federal and state labor laws is generally extremely confusing. Simply put, federal labor laws essentially set the minimum acceptable standard of employee protections – and state laws may serve to bolster or otherwise offer better protections than the federal standard.
The state of Florida generally offers better protections to employees than the federal standard. However, they also frequently follow federal law on numerous key issues. For example, the state of Florida has no law on overtime pay, opting instead to follow federally-accepted standards.
At Florin Gray, we understand the confusion that can come from the complex interweaving of federal and state laws. Our Tampa employment lawyers have the experience and knowledge to keep up with these laws, so you don't have to do the research yourself. By having such a comprehensive library of knowledge at our grasp, we can give you the peace of mind you deserve.
The Litigation Process for Tampa Labor Disputes
It is important to note that filing a claim may vary depending on what type of specific employment dispute you may have.
Filing a Discrimination Claim in Florida
Filing a discrimination claim involves filing a charge against your employer with either the Equal Employment Opportunity Commission (EEOC) or the Florida Commission on Human Relations (FCHR). Typically you file first with the state agency, who may then escalate it to the federal agency. However, in workplace discrimination cases, the two agencies cooperate with each other to process claims.
In many cases, the EEOC or FCHR will choose to investigate the case and initiate mediation. During mediation, there is a chance your employer will resolve your issue, pay your desired recovery, and end the claims process. However, there is also a chance that your employer will refuse mediation, fight the claim, and deny a settlement offer. Hiring a lawyer to represent you during mediation can significantly improve the odds of resolving your case without needing to go to court.
If your case does require a trial for resolution, definitely hire a Florida employment attorney. Legal assistance during a trial can remove the burden from your shoulders and help you win your case. Instead of navigating complex employment laws, legal procedures, and filing requirements alone, partner with a lawyer to automatically boost your odds of success. If you're serious about winning your claim, hire an attorney.
Unfair Labor Practices: Filing a Wage Claim in Florida
There is no specific state agency that enforces wage and hour laws in Florida. If you have a wage claim, you may file a complaint with the Florida Department of Labor and Employment Security. However, this simply reports the violation to the federal government and does not result in financial recovery for your unpaid wages.
In 2017, the U.S. Department of Labor found more than $270 million in back wages were owed to employees in the United States.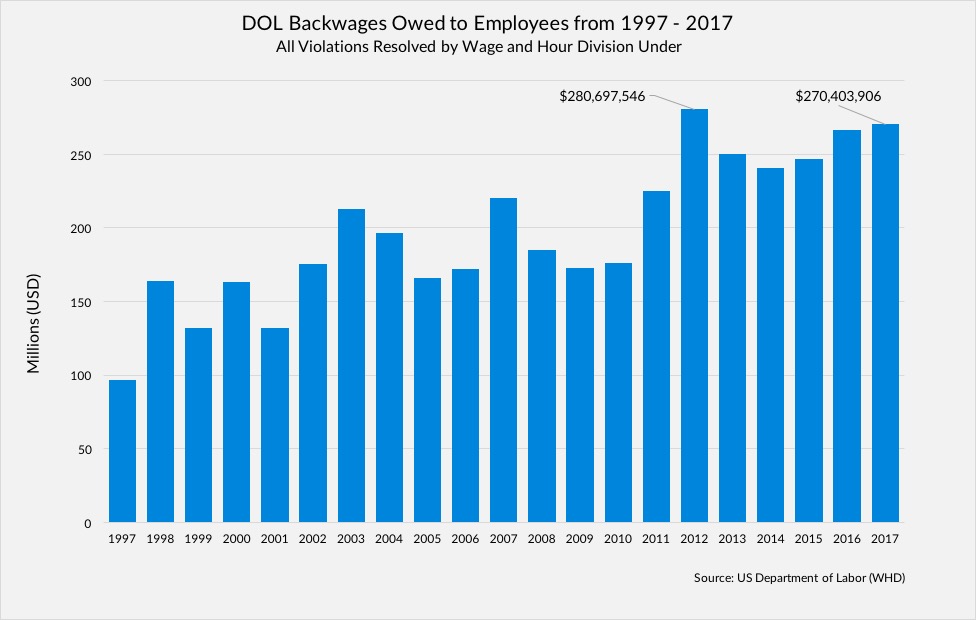 In order to have any recovery, you must file a lawsuit. The state of Florida entitles you to file a claim to recover unpaid wages, liquidated damages in an equal amount, attorneys' fees, and a $1,000 penalty per willful violation.
If you want to recover any unpaid wages, contact the Tampa employment attorneys at Florin Gray. We are devoted to aggressively litigating any employers who do not rightfully compensate you, and we want to pursue the maximum possible compensation on your behalf.
Tampa Statute of Limitations on Employment Claims
Any claims regarding employment law have a statute of limitations, but they may vary depending on the type of claim.
If you are filing an employment discrimination claim, you must file with the FCHR within one year of the date of discrimination. If you are filing with the EEOC, you must file within 300 days of the date of discrimination.
If you are filing a wage claim, you must file within two years from the date that the claim arose.
Although it's generally better to file a claim sooner rather than later, it is highly recommended to consult with a knowledgeable employment lawyer before filing your claim. They may be able to confirm that you do indeed have a case against your employers.
Do I have enough evidence for an employment claim in Florida?
You probably have an employment claim in Florida if a higher-up made an employment decision based on something other than your occupational abilities or work experience. Any decisions made based on your gender, sex, relationship status, ethnicity, religion, etc. is a sign of workplace discrimination. If you feel your employer made a hiring, promoting, firing, or other decision without proper and legal grounds to do so, it may be highly recommended to consult an attorney.
In general, consulting with an experienced attorney may be the best way to determine whether you have a case that can lead to significant compensation. In these cases, please contact Florin Gray to discuss your legal options. We are not only able to listen to your case and help advise you on what to do next, but we also offer your initial consultation and no cost.
Contact Our Tampa Employment Attorneys Today – It's Free
If you or a loved one has been a victim of violations in employment law, please contact Florin Gray immediately. Our Tampa employment lawyers are here to help you fight for your right to a fair workplace – and help you secure the compensation you deserve. We are advocates for those who have been wronged by unfair labor practices, and aggressively pursue those companies to the fullest extent of the law on your behalf. Contact us today for a free initial consultation to determine your options for filing a claim.