Aruba Airlines Pays $75,000 to Settle Pregnancy Discrimination Case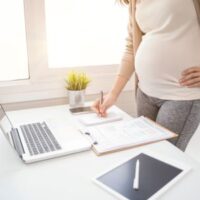 Aruba Airlines recently paid $75,000 to an employee that they terminated after she announced her pregnancy, according to a recent report. The lawsuit was filed by the Equal Employment Opportunity Commission (EEOC). According to the complaint, Aruba Airlines violated federal law when they terminated the employee just after she announced her pregnancy. The termination would have violated Title VII of the Civil Rights Act of 1964 and the employee's civil rights afforded under that piece of legislation. The rules prohibit discrimination based on pregnancy, although, it does still occur.
Aruba Airlines will be required to pay the plaintiff $75,000 in damages while also implementing and enforcing a policy against pregnancy discrimination. The company will be required to make its employees undergo anti-discrimination training. This includes ensuring that their human resources department is apprised of the law when it comes to anti-discrimination and anti-retaliation. Aruba Airlines will also have to disclose any complaints against the company for pregnancy discrimination.
How to win a pregnancy discrimination lawsuit 
In cases like these, the defendants usually offer some pretense as to why they fired the employee other than discrimination. It becomes necessary then, for the employee to establish that their employment record is clean, that they were in good standing with the company, and that the pretense is a thinly veiled excuse to engage in discriminatory conduct. Often, you'll find allegations against the employee that don't seem to add up or are not corroborated by the employee's record. By going through the employee's record, an attorney representing a plaintiff in a matter of employment discrimination can establish that the employee was fired for some other reason than their conduct at work.
Pregnancy discrimination is illegal 
The Pregnancy Discrimination Act of 1978 makes it illegal to terminate an employee solely because they are pregnant. The Act amended the Civil Rights Act of 1964 to extend protections to those who were pregnant. Recently, the law has been extended under a more recent piece of legislation called The Pregnant Workers Fairness Act. The law now requires employers to provide reasonable accommodations for pregnant workers in the workplace.
Examples of reasonable accommodations include:
Closer parking
Additional break time for restroom breaks
Sitting and drinking water
Being excused from strenuous labor
The new law mirrors "reasonable accommodation" language in the Americans with Disabilities Act. Employers are now required to make reasonable accommodations for employees who are pregnant the same way they would be required to make reasonable accommodations for employees with disabilities. Employers will be required to make these reasonable accommodations so long as they do not cause "undue hardship" to the employer.
Talk to a Tampa, Florida Employment Discrimination Lawyer Today 
Florin Gray represents the interests of workers in employment discrimination lawsuits. Call our Tampa employment discrimination lawyers today to schedule a free consultation and we can begin discussing your options immediately.
Source:
jdsupra.com/legalnews/aruba-airlines-to-pay-75-000-to-settle-3032997/