Republican Lawmaker Accused of Sexual Harassment Against Former Aides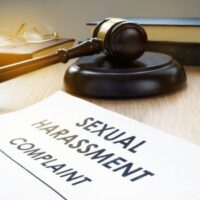 Two former aides for a Republican lawmaker have filed a sexual harassment lawsuit against Rep. Fabian Basabe alleging inappropriate sexualized conduct while working under his direction.
The plaintiffs contend that Basabe repeatedly talked to them about sex and at one point, showed them a naked picture of a man on his phone. One aide claims that Basabe slapped him on the buttocks while the two were in an elementary school and told the aide that he "wanted all of that." Another alleges that Basabe advised him to break off his engagement to his girlfriend and explore having sex with men. The suit further claims that Basabe tried to kiss and grope the aide when the aide drove him to his hotel room after a night of drinking. The claims are now under investigation, though Basabe vehemently denies the allegations against him.
Sexual harassment lawsuits 
Inappropriate conduct in the workplace is a common reason for employment lawsuits. In cases where an employee touches or makes lewd comments to another employee, the aggrieved employee can file a sexual harassment lawsuit against the harasser and his or her employer.   Generally, sexual harassment lawsuits are filed under three theories. The first is that the harasser has made performing sexual acts a condition of employment. The second is that the harasser takes negative employment actions because sexual advances were denied.   The third is that the sexual advances interfere with the victim's ability to do their work, creating a hostile work environment. In a typical sexual harassment lawsuit, the incident should first be reported to human resources prior to filing a claim.   If the conduct continues and the employee feels unsafe in their work environment, then a lawsuit can be filed.
. In the lawsuit against Basabe, the allegations appear to be serious. Basabe is accused of both making unwanted sexual advances and illegally touching his subordinates in a provocative and sexual manner. The aides will likely claim that he made them feel objectified at work, and that Basabe implied that having sex with him would be a good way to advance their careers.
For its part, the legislature has a zero-tolerance policy towards sexual harassment and will follow up with all claims made against representatives.
Talk to a Tampa, FL Sexual Harassment Attorney Today 
Sexual harassment in the workplace is illegal. When it does occur, it should be reported immediately pursuant to your employer's reporting policy.  If you believe you are being sexually harassed at work and want to file a sexual harassment lawsuit,  call the Tampa employment attorneys at Florin Gray to schedule a free consultation and learn more about how we can help.
Source:
abcnews.go.com/Politics/wireStory/lawsuit-florida-claims-republican-lawmaker-sexually-harassed-aide-100803975