Woman Files Lawsuit After Being Hit with Chain of Carts at Walmart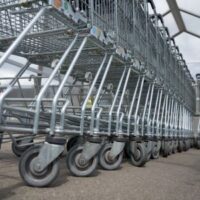 A woman has filed a lawsuit against Walmart after she was struck by a chain of carts being pushed by an employee. The woman was leaning on a cart in front of a chain of carts when the employee pushed the carts into her back. She claims that she is still receiving treatment for medical injuries that occurred as a result of the accident. She is seeking $3 million in damages from the incident.
The woman claims that the employee was negligent in that they did not keep a lookout to ensure that no one was near the carts as they were being pushed. Walmart will likely claim that the woman was standing in a dangerous location and thus contributed to her own injuries. Would a reasonable person stand with their back to a chain of shopping carts? Or is Walmart liable because their employee failed to keep a lookout?
Elements of negligence 
It would be negligent for an employee to hit a customer with a chain of shopping carts. However, one of the key elements of a negligence claim is the injury. The woman is claiming that she suffered severe injuries as a result of being struck by the shopping cart. Walmart is likely to defend the claim on the basis that her injuries are not as severe as she is claiming.
Video footage of the accident shows the woman being struck by the cart. The woman manages to run from the area in apparent pain, but moments later says that she blacked out. She collapses on top of the shopping carts.
Damages 
Damages are directly related to the extent of the plaintiff's injuries. In this case, it is unclear how substantially the plaintiff was injured. The plaintiff is claiming that she sustained $3 million in damages which is probably unlikely. She is claiming that she suffered a spinal injury and still takes medication for pain.
Shopping cart injury lawsuits 
The vast majority of shopping cart injuries are suffered by children who fall out of the shopping cart. A staggering 70% of injuries are related to children falling from carts. That amounts to a total of 24,000 injuries a year or about 66 per day. Parents generally are at fault when these accidents occur and large stores like Walmart vigorously defend such claims. Relatively fewer accidents are caused by employees who strike customers with shopping carts.
In the case mentioned above, the plaintiff may have a claim for damages. Walmart will contend that her spinal injury is related to a pre-existing condition and that her injuries are not as severe as she is making them seem. This is a common tactic when it's difficult to disprove negligence. Clearly, the employee was negligently operating the chain of shopping carts.
Talk to a Tampa, FL Personal Injury Lawyer Today 
Florin Gray represents plaintiffs in personal injury lawsuits against negligent defendants. Call our Tampa personal injury lawyers today to schedule a free consultation and we can begin discussing your allegations immediately.
Source:
local3news.com/local-news/chattanooga-woman-claiming-she-was-hit-by-shopping-carts-suing-walmart-for-3-million/article_b8e4aa80-b2f9-11ed-813f-fb2466660aa6.html