Applebees Hit with Employment Discrimination Lawsuit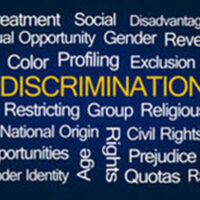 An Applebee's franchise was recently hit with an employment discrimination lawsuit on the basis of race and sexual orientation. The franchisee agreed to pay $100,000 to the plaintiff amid complaints that two employees continually subjected another employee to racial and homophobic slurs. According to the suit, one of the harassers wore Confederate regalia to work. The employee reported that they complained to management, but management took no affirmative action to prevent the harassment from occurring.
This is an example of a hostile work environment lawsuit. The allegations refer to two employees harassing a third employee and management not curbing the conduct. As a result, the franchisee was forced to pay the plaintiff $100,000. Below, we'll discuss hostile work environment lawsuits.
Is your work environment hostile? 
There are many different types of employment discrimination lawsuits. However, a claim that a work environment is hostile to a particular worker must be based on a repeated pattern of uncorrected abuse. There does not need to be a third element and it does not matter if the conduct is committed by a supervisor or another employee.
Once the conduct is reported to management, management has a duty to address the problem with the employees committing the harassment. Since the result of a hostile work environment lawsuit is a lot of money, the self-preservation of the company is based on preventing future instances of harassment in the workplace. In this case, that didn't happen and now the company has to pay $100,000 to the plaintiff and retrain their employees on civil rights in the workplace.
In other words, the company had the opportunity to do the right thing and they simply didn't expose the employee to further discrimination and harassment. Now, that employee is $100,000 richer.
Elements of a hostile work environment lawsuit 
In order to file a successful claim on the basis of a hostile work environment, the employee must establish:
Multiple instances of derogatory behavior, harassment, or bigotry based on a protected class. Both sexual orientation and race are considered protected classes under the current law as is gender expression (trans people count too). The conduct must be considered unwelcome by the victim.
The employer must know about the discrimination. The employee must report the behavior to management and tell their supervisors that it is unwelcome and causing psychological distress. Only then can a lawsuit be filed.
The employee must establish injury. The employee must establish that the conduct impacts their ability to perform their work. In the case of hostile work environments, this is generally quite simple to establish. People don't like being harassed based on traits they cannot control.
Contact an Employment Discrimination Lawyer Today 
Florin Gray represents the interests of Florida employees who are facing discrimination or harassment in the workplace. Call our Tampa employment lawyers today to schedule a free consultation and learn more about how we can help.
Source:
hcamag.com/us/specialization/employment-law/applebees-franchisee-grilled-with-sexual-orientation-race-discrimination-lawsuit/413017