Disabled Employee Sues Disney Over Disability Accommodations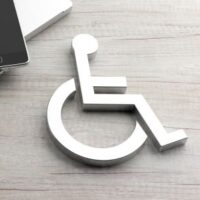 Disney is being accused of costing an employee her dream job because they would not make reasonable accommodations for her disability, according to a recent lawsuit. The woman was working in a large retail complex that sold Disney items. The woman claims that not only was the work environment hostile, but she was discriminated against on the basis of her disability. Disney is further accused of retaliating against the employee for filing a complaint.
Below, we'll analyze all of the elements of the plaintiff's claim.
Reasonable accommodations 
According to the lawsuit, the employee's condition made it difficult for her to be on her feet for an extended period of time. She asked her employer to allow her to sit down at regular intervals which would have been possible while she was working at the cash register. She also requested bathroom accommodations and asked to not have to lift anything over 10 lbs. According to the suit, the employee soiled themselves due to a lack of bathroom accommodations.
In cases where a disabled employee requests a reasonable accommodation, employers are required to consider the accommodation, and if the accommodation does not prevent the employee from doing their job, then the employer is on the hook to ensure that the employee's request is honored.
The requested accommodations sound reasonable.
Hostile work environment 
There are no specific details on what Disney or other employees did or said to the victim that made her feel discriminated against, but she does allege that she was retaliated against for asking management to make accommodations. If so, then she may also have a valid claim for a hostile work environment.
Why do employers retaliate when it's illegal? 
They're operating off of emotion and not reason. There is only one right way to handle a discrimination complaint, and the law sets forth how it's done. Employers who use extra-legal means to deal with employees who make fair requests end up getting sued and the managers who denied those requests become the reason why they're sued. In other words, the manager now gets to live with the fact that they cost their company more money than they'll ever see in a year and the value they provide their company is now in the red. They often face demotion or firing for the conduct as the company moves to mitigate the rage of the employee and her attorney.
Talk to an Employment Discrimination Lawyer Today 
Florin Gray represents the interests of Florida residents facing discrimination in the workplace. Call our Tampa employment lawyers today to schedule a free consultation and we can begin discussing your next moves immediately.
Source:
floridapolitics.com/archives/588097-ex-disney-employee-sues-company-over-disability-accommodations/